My Missouri State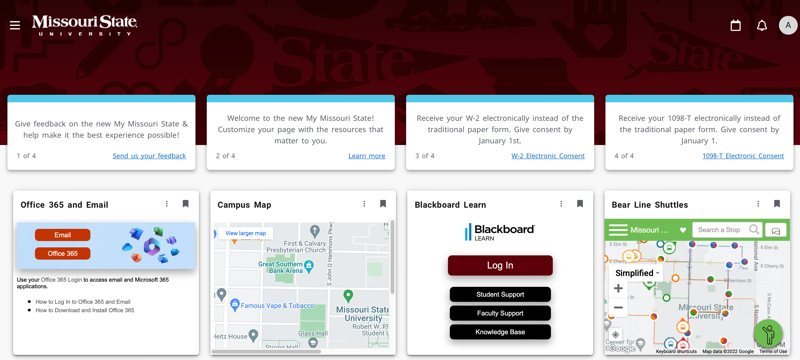 Get ready for a new and improved My Missouri State portal. Changes are coming to make the portal a better experience for all Missouri State users. My Missouri State is overdue for an update — so we're bringing the portal into 2023 with a whole new look and feel!
Information Services has been hard at work with the support of many of our functional areas to implement a new software that will totally transform My Missouri State into an easy-to-use, modern site that you can customize to fit your preferences.
---
Resources
Learn more about the new My Missouri State portal, including how to navigate, find the resources you need, and customize your home page.
Preview
The new My Missouri State is available now for preview. You can see and interact with the live site, rearrange your Home page, and provide feedback about your experience.
Feedback
We are actively working on the new site and want to make it the best experience possible, so if you have suggestions for how to improve the new My Missouri State or comments about anything you see, please let us know. You can also let us know if something from the old My Missouri State isn't available on the new site.
---
Notifications

Loading